Thanks to our Angel Partners, the Sunshine Angels is able to provide the following annual scholarships to our graduating Sunshine Kids every year to deserving foster children who are looking to pursue their next level of education.  We thank the following Angel's for their scholarship contributions to make higher education possible for these young adult students:
Flo Smithiger, Founder of Sunshine Angels, Memorial Scholarship: $500 Annually.  Flo Smithiger passed away in 2014 and was the perfect example of the power of one.  She started this movement, which became the Sunshine Angels, in 1999.  She had one volunteer and they helped 10 children.  Over the years the Sunshine Angels grew in both volunteers and children through Flo's vision and direction.  Today, we have over 75 volunteers and provide services to help more than 300 children.
Angel Phyllis Memorial Scholarship:  $500 Annually.  Angel Phyllis was a pioneer member of the Sunshine Angels, her passing in 2010 was devastating to all who knew her. Phyllis is honored each year with a $500 scholarship awarded in her name to a 12th grade graduate from Sunshine Residential Group Homes.  Phyllis' love and commitment to the Sunshine Kids is unparalleled.  This special Angel holds a special place in our hearts.  We honor her for all the amazing support, love and care that she provided to the children.
MIRACORP Scholarship: $500 Annually.  Ms. Cynthia Reed, President and CEO of MIRACORP is an Angel Champion.  Ms. Reed is our first corporate sponsor and continues to support "our" kids.  We receive a generous donation each year for shoes for Basketball Camp.  MIRACORP sponsors a yearly essay contest each Spring with cash prizes for all winners, provides gifts for our 8th and 12th grade graduates and gifts at Christmas. Ms Reed has propelled the Sunshine Angels into the 21st century by creating professional office documents for us and providing some office equipment.  For each of our fundraising events MIRACORP has donated a new iPad for the raffle. The support and encouragement the Sunshine Angels have received from Ms. Reed has been invaluable.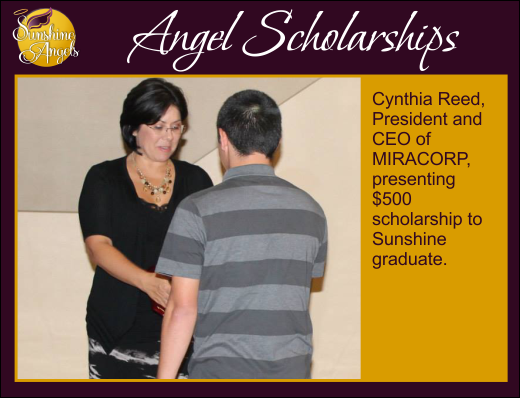 James Wesley DeBusk Memorial Scholarship (funded by Trent DeBusk): $500 Annually.   Mr. DeBusk was an Angel Champion. He provided the Sunshine Angels with many items that were a direct blessing to "our" kids.  Wes donated money to support our many programs and also provided the much needed items for the welcome boxes and other items to help the children including:  tee shirts, socks, underwear, flash cards for tutoring and a laser printer.  Wes's generosity is unparalleled and was continuous until his passing in May 2013.


Wilson Family Scholarship: $500 Annually.  Jeff and Debbie Wilson have selflessly gone above and beyond for the Sunshine Angels.  Debbie is a MIRACORP employee (one of our Angel Partner companies) and became involved with Sunshine Angels in 2012.  She has attended several functions for the Sunshine kids and helped with many of our events and programs.  She and her husband Jeff wanted to take it to the next level, so their family could also participate in giving to the Sunshine Angels and be part of our cause to make a difference.   The Wilson Family is proud to be part of the Sunshine Angels and to offer their scholarship to a 12th grade graduate and plans to do so annually.
Pentecostals of Phoenix: $500 Annually.  Pentecostals of Phoenix is a church located in north Phoenix with a congregation of almost 300 members.  Two of their members are MIRACORP employees (one of our Angel Partners), who brought awareness to the church of the Sunshine Angels.  Pastor Rob Bibb and his wife Connie, and Assistant Pastor Jeff Wilson and his wife Debbie attended our annual Fall Fundraiser and decided to make it a mission to help more with our charity.  They went back and presented the Sunshine organization to the church body as a way to help their community "outside the church walls".  The congregation made a commitment to sponsor one of the group homes for Christmas 2012 and with a 12th grade scholarship that they plan to sponsor each year.
Foster kids receive a free state paid education if they follow all of the rules while in the foster care program. Many of the kids recognize the importance of their education and value this opportunity to further their education after high school.  Despite tuition being paid for by the state, the kids still need help and support in order to be successful.
The Sunshine Angels' Scholarships helps the Sunshine Kids that qualify for college with other important needs, including tuition if the funds from the State of Arizona are not received timely, assisting with a cell phone, turning on utilities, laptops, etc.
With your help or contribution, we can add to the Sunshine Angels' Scholarships and help even more foster kids be successful in college.
[button link="https://www.paypal.com/home" size="large" bg_color="#310821″ border="#c67f07″ window="yes"]Click Here To Sponsor A $500 Scholarship[/button]